If you're a business owner looking for lead generation tactics, and you're considering video, there's only one thing you care about:
Will it get me more customers?
The short answer? Yes. Video marketing can absolutely get you more customers. However, with so much content and subject matter cluttering up YouTube, Vimeo, Udemy, and more, it's difficult to get a potential customer to engage with your video. Even if they do, they may not take the action you'd like them to take.
That's why if you're looking to invest in video marketing this year, you also want to invest in a video lead generation strategy to ensure you get the best possible return from your investment.
6 Video Lead Generation Strategies And Trends For 2021
In the past, the metrics we had to measure video marketing success weren't very insightful. A hundred video views may seem impressive, but who actually watched it? What did they do next? Are they a customer now? You never knew.
Now, marketers are much savvier with video marketing. There are a variety of tactics and trends to acquire leads right from video content, many that are proving to be very fruitful in video lead generation.
#1. Add a Lead Generation Form
Once you have a great video, you can add a form within it (which Wistia calls a Turnstile) to collect leads. The logistics of adding a form to the middle or end of your video is pretty straightforward, as long as you're using Wistia, Vidyard, or HubSpot Video.
(As of now, it's not possible to add a form to YouTube or Vimeo videos without an additional platform or integration.)
Here's a video that demonstrates how to set up a form in Wistia:

But before you get form happy and start gating all of your videos, there are a few things to determine about your video, including:
The Value
Is the content in your video worth the lead's contact information? If not, do not add a form. You won't get many conversions. Even if you do get a few, leads will be irritated if the material wasn't worth handing over their email address.
The Buyer Journey
Where does this video fit into the buyer journey? Educational or how-to videos are typically for TOFU, or top of the funnel leads, or new visitors. Videos with product tutorials or demos are better for BOFU, or bottom of the funnel leads.
Video Placement
You can add videos on your pricing or product pages, which is where visitors tend to visit when they're inching closer to becoming a customer. These are great places to place a video with a form.
Quality and Quantity of Leads
If you care more about quality, experiment with BOFU content that focuses more on product specific material. Using some tools (like HubSpot Video and Vidyard) you can easily add a lead generation form in the beginning or during your video.
#2. Create A Facebook Live Video Strategy
Live video can be an excellent tactic for attracting new visitors and engaging existing leads. Platforms like Facebook, Instagram, and Twitter all offer the option to "go live", which can be perfect for discussing new projects, pitching a new lead magnet or content offer, talking about product features, and more.
A few weeks ago, I did a Facebook Live for my travel blog and just talked about finding cheap trips on Google Flights. It didn't take much time, I got crazy engagement (considering it was a spontaneous act) and I still have the video file saved if I want to repurpose it.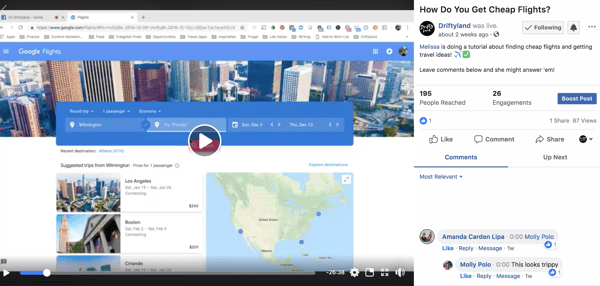 It's as easy as selecting content or a topic, talking through it, and directing the audience towards your landing page and form in the description or at the end of the video.
You can replicate this process for a lot of your offers and keep engaging with interested visitors until they convert. You should also save live video and repurpose those assets across various channels to broaden reach.
#3. Leave Video Voicemails For Leads
Video voicemails are a quick and budget-friendly tactic to engage with interested leads. Using one of many video platform tools, you can start recording using your webcam and leave a voicemail to recommend a free trial sign-up, address challenges about using your product, answer questions that customers post on social media, and more.
They're also a great way for marketing teams to follow up via email. More and more teams are finding that email isn't as effective as it once was, with their emails sitting unopened in inboxes.
That's why leaving video voicemail can be a game changer for emails that require a human touch, such as in-depth explanations, introductory emails during nurturing workflows, and more.
The video voicemail doesn't need to take more than a few minutes to create. With Loom, for instance, you add the plug-in to your browser, record your video, and share a link within the email.
Here's an example of a Loom video link that I dropped into the body of an email.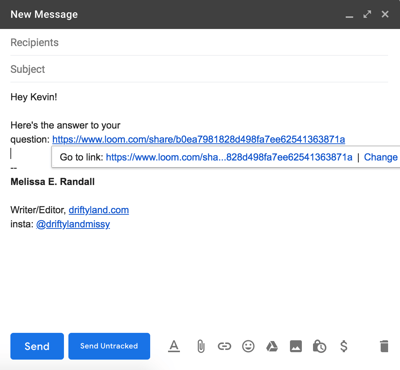 It's nothing fancy, just a reply. If you want to be more formal, you can easily edit the hyperlink text and style it within your preferred email template.
#4. Repurpose Top Performing Blog Content Into Video
Companies invest a lot in blogging and content creation. You can repurpose the better performing content into videos, which can be strategically added to YouTube playlists, on relevant website pages, in the blog post themselves (Want to watch this as a video? Check this out), uploading on Pinterest or Linked, etc. These videos can all have forms on them.
HubSpot talks more about extending the value of your content in this session of HubSpot Academy:

You can also check out how to specifically transform a blog post into a video marketing asset.

When you have an asset that's already performing well, it's worth repurposing it into another medium and format. You can attract more traffic from new sources.
#5. Use Annotations To Encourage Action
Annotations are the text and pop-ups that appear when you're watching a video on YouTube and other social channels. When used strategically, they can be used to encourage people to convert or take action, similar to a CTA. The key is to use your annotations to guide your visitor towards a natural next step, using a conversational tone.
HubSpot does this very well within their YouTube video content, like this prompt within a video about creating case studies to check out more of HubSpot's Marketing content on their blog. It makes sense because the person watching the video is seeking more guidance about content marketing.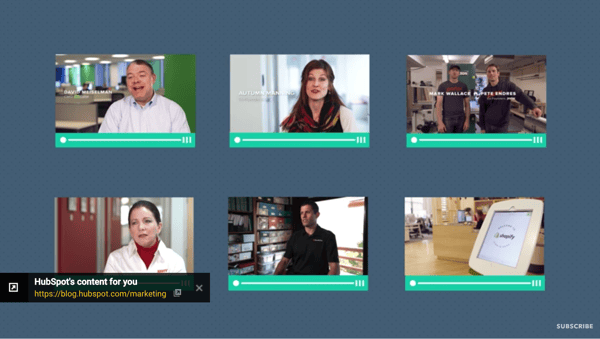 You can also use annotations to get people to subscribe to your channel, which is another appropriate action to add to TOFU content. If the visitor is watching and engaging with this video, it's likely they will find value in more of your channel content.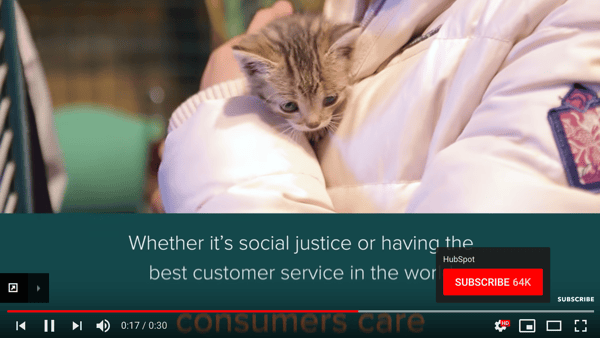 Think of annotations like potential hyperlinks within a blog post. You wouldn't interrupt a thought to force your free trial towards a TOFU lead. You may mention that a feature is available in your free trial, but you don't want to be aggressive about it. It's the same for annotations. You want to use them to enhance the CTA, not to detract from it.
#6. Personalize Outbound Sales Outreach
It's more challenging than ever to get the attention of customers. However, with videos, sales teams can mix up their sales process and personalize outreach, which in Vidyard's experience, increased their email response rates by 500%.
When you send a video in place of a cold call or sales email, you're putting a face to your name and ensuring your potential customer that you're a real person.
Vidyard explains this process flawlessly with their sales department manager, Terrance Kwok.

In a nutshell, exceptional video can help make your sales material less stale and stand out against competitors.
Using video can also help you stand out on LinkedIn. If you use LinkedIn Mail for outreach and lead generation (which I don't recommend doing unless you can do it very well), you can embed links to personalized videos within your messages.
Getting The Best Return On Video
Video, like any other form of content marketing, requires strategy and creativity. Just because you create a video, doesn't mean you will immediately generate traffic and leads. Your video needs to fit into your buyer journey at critical conversion points, and when used effectively, can help you build rapport and gain trust from potential customers.
When you incorporate video lead generation strategies into your inbound marketing initiatives, you can get even better results and hit key performance metrics and goals. To learn more about the components necessary to make inbound a success, check out our free guide, Conquering The Inbound Marketing Mountain.