Salesforce.com is a top competitor in the customer relationship management (CRM) software space, but they're also not the only CRM on the block.
Salesforce's CRM market share is 19.5%, and their recent reports on financial performance and growth are impressive. This heavy-duty, enterprise-grade Software-as-a-Service (SaaS) product competes successfully with alternatives from SAP, Oracle, Microsoft, Adobe, and more recently, HubSpot.
In 2014, HubSpot made the radical decision to offer a free SaaS CRM product. That's right, free. Considering that Salesforce is not even close to free or cheap, it's tempting to wonder how these products stack up. Which CRM is best? And more importantly, could HubSpot replace Salesforce for some companies?
HubSpot vs. Salesforce: Who Owns The Best CRM?
HubSpot is an all-in-one platform for integrating their CRM into all your Marketing, Sales, and Service efforts. While Salesforce's CRM could be considered a "better" CRM, the price quickly increases as you add your necessary tools.
So, ultimately, there is really NO such thing as "the best" CRM.
Many people would tell you that Salesforce is the best, and many others would tell you that HubSpot is the best. While we have a clear bias towards the HubSpot product ecosystem, we'll also admit that the HubSpot CRM is not the right solution for everyone.
The right CRM depends on your company size, structure, budget, talent, and other technology. For many large enterprises, Salesforce is the right company. For many small and medium-sized organizations (SMB), HubSpot is superior. Here are nine angles of comparison between the HubSpot CRM vs. Salesforce to guide you to the right decision. But first...
What is a Customer Relationship Management Tool?
Using the definition from Gartner, customer relationship management technologies enable:
Sales and Customer Relationship Strategy
Identifying Leads & Customers
Manage Customer Relationships
Provide Functionality for Sales, Marketing, Customer Service, and Digital Commerce
CRM technologies fill a big role in a company's technology stack, and they're not a small piece of software. Unlike the app on your phone that does one thing extremely well, like sizing images, CRMs have a lot of features and functionality.
Do I Need a CRM?
If you're asking whether you need CRM software and your company is business-to-business (B2B) in focus, the answer is probably yes. In fact, it's probably easier to define the use cases where a company doesn't need a CRM.
Here are some rare instances where companies that meet most of the following criteria may not derive value from a CRM. If you fit the following, an investment in a non-free CRM may not yield returns:
You're a sole proprietor
Your business generates very few leads, such as one per week or less
You have a short, simple sales cycle
You have very few (such as one) client
Your client's business is also very small, or you don't communicate with many of their employees
In short, if your business has almost no data about leads or customers or sales, you may not need a system to organize it. For most companies with any sort of scale, CRM can be a huge benefit.
Speaking of scale, are you interested in growing you brand? Learn about how we 10x our clients' traffic, leads, and opportunities with our 10x Methodology.

And now for the comparison.
1. Monthly Cost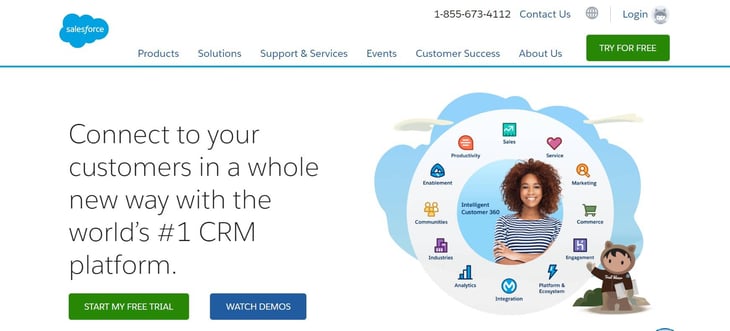 Salesforce operates with a subscription-based model, so enterprises are billed a predictable, monthly amount calculated based on two factors:
Number of Users
User Type: Essentials, Professional, Enterprise, and Unlimited
Salesforce costs $25-300 per month for each user. These pricing levels can be mixed and matched according to your needs.
Understanding Salesforce Pricing
Here's an illustration of what this would cost for an SMB with 15 users and the following user type breakdown:
2 Professional Licenses ($75 each)
12 Enterprise Licenses ($150 each)
1 Unlimited License ($300 each)
Total Monthly Salesforce Cost for 15 Users: $2,250.00
However, Salesforce is billed annually. The upfront, one-year licensing cost for the company with 15 users would actually be calculated as follows:
$2,250 * 12 months = $27,000 paid annually
Licensing costs may also be up to 20-30% more or even higher if you opt for one of their paths to enhanced support: Premier, Premier+ or Signature support. This provides users with access to support features that include:
Webinars
24/7 Phone Support
Chat Support
1-Hour or 15-Minute Critical Issue Response
Success Engineers
Customized Training Plans
How much does Salesforce really cost?
Assuming the SMB with 15 users opts for the premier success plan, they may be 20% more for Salesforce. Final cost: $2,700.00 per month, paid annually as $32,400.
How much does HubSpot CRM Really Cost?
$0.

HubSpot CRM is free forever. It's not a 30-day free trial, it's just free. For the monthly price tag of $0 and an annual price tag of $0, your subscription nets you up to 1,000,000 contacts, 1,000,000 users, and no storage expiration date.
HubSpot CRM also includes limited free use of their Sales Hub tools. There aren't any hidden fees with this product, but users may choose to add paid HubSpot products to their "growth stack" immediately or later, when they can afford it. HubSpot supports this approach to scaled adoption.
Users may, however, choose to purchase additional sales and marketing tools from HubSpot to create an end-to-end technology stack. This is not a required choice.
Sales Hub Enterprise provides power without pain. Instead of being loaded with hidden costs, HubSpot offers transparent pricing. And while legacy CRMs require add-ons and integrations that leave teams feeling overwhelmed, Sales Hub Enterprise brings core CRM and sales tools together in one place.
Who Wins? HubSpot.
2. Hidden Costs
Does HubSpot or Salesforce carry any hidden costs for their CRM? While we're not going to do a full total cost of ownership breakdown, it's important to think about upfront fees and other hidden costs.
Salesforce ownership costs can rise above basic licensing and advanced support, depending on your needs. A Salesforce Service Cloud data sheet lists product enhancements which are sold separately, including:
Knowledge User License ($600 each annually)
Offline Access

(up to $25 per user monthly)
Live Video Chat Support
Advanced Social Customer Service
Customer and Partner Community Access
Field (On-Site) Services
Additional

Data Storage

(approximately $1,500 for

500 mb annually)
In addition, companies may need initial or ongoing support from Salesforce expert consultants, which could be billed monthly or at an hourly rate.
Does HubSpot carry hidden costs? Not really. The product functions as a standalone CRM for users who don't purchase HubSpot's paid marketing or sales tools. You may pay more if you choose to use a CRM or sales consultant, or if your company wants to build a custom integration between HubSpot and another software.
Who Wins? HubSpot has fewer paid upgrades.
3. Ease of Use
How easy is HubSpot CRM to use, and how does that compare to Salesforce?
"Ease of use" is incredibly subjective, and ultimately, depends on the person. A product that a software engineer would describe as "intuitive" probably wouldn't get the same review from a sales pro who hates technology. It's complicated, so the right answer is likely crowdsourced from real product users in sales and marketing roles.
Salesforce has a

4 out of 5-star

average rating by 4,768 users on Capterra.
HubSpot has a

4.5 out of 5-star

average rating by 700 users on Capterra.
Who Wins? HubSpot.
4. Implementation
When it comes to getting the product up and running, not all software or CRMs are created equal. Implementation is a catch-all term for all of the stuff needed to get the software ready and users trained: installation, configuration, customization, integrations, testing, training, and adjustments.
Salesforce implementation can require anywhere from $5,000 to well over $80,000 or higher, writes CRM consultant Ranger Lewis on Quora. He states Salesforce implementation may be costlier if your company:
Is switching CRMs
Requires lead and customer data cleaning or formatting
Needs custom integrations with software or processes
A need for many different features
Requires advanced training or consultant support
Time-to-implementation isn't the same as pure cost, but they're definitely related. Salesforce CRM integrations may take months or even longer, especially for large enterprises who need to carefully manage the project as a strategic global initiative.
You may need to prepare to start using HubSpot CRM if you meet some of the criteria for tough implementations listed above. There may be a need to reformat or scrub your data. Some team members may need training, and you could have to build custom integrations. However, the chances you'll need a consultant are pretty unlikely to get started with HubSpot, unless you're a massive company who needs professional change management support.
A good product makes implementation seamless. You see, difficult implementations are a shortcoming of your software, not your business. The right software will have consumer-grade frontend and an enterprise-grade backend to make implementation and onboarding easy (with the help of a certified partner).
What Real Users are Saying
Ratko Ivanovi, a verified user, writes on Capterra that HubSpot CRM is "simple to setup and use," saving him 5 hours a week on sales and driving new business. Other reviews note setup is "self explanatory," and it's possible to start running "immediately" with basic features.
Julian Gallow is another user who turned to CRM after a "nightmare" implementation experience with another CRM that wasn't SalesForce. Gallow completed the "really simple setup" for HubSpot in a "few minutes," writing that tests of the software revealed all the "legwork was done for us faster than we could type...and surprisingly accurately."
Who Wins? HubSpot.
5. Customization
There are two ways to look at customization of technology, and we'll consider both.
Can you change it?
How easy is it to change?
Salesforce is highly customizable, and markets their product as the "most customizable CRM." HubSpot is also customizable to your businesses processes and structure and offers an Open API, but is likely not too customizable to the same extent as Salesforce.
However, it's complicated. A sales pro with average technical savvy can customize HubSpot deal stages, pipelines, and "views" of deals. This same person can leverage HubSpot CRM's pre-built integrations with other software, but they'll need a developer to use the Open API for custom integrations.
Salesforce Administrators can also customize processes, workflows, and users without IT help. It's probably harder than HubSpot, but this is due to how many features are offered. However, there's an entire industry of Salesforce Developers, who use relatively advanced tech skills like Java development to build custom functions, apps, and integrations in a cloud sandbox environment.
Who Wins? We'll call a tie between Salesforce and HubSpot CRM.
You pick the winner depending on what you mean by "customize" and how much customization you want.
If you want a product that makes it easy to adjust the software to fit the software your business fast, HubSpot wins.
If you want a product that allows customization to infinity and beyond, Salesforce wins.
6. Integrations
HubSpot offers 11 internally-supported integrations, including integration with SalesForce, WordPress, SurveyMonkey, Zapier, Google Calendar, Chrome, and Wistia. Additional externally-built integrations are available. This list is expanding, and the open API offering allows companies to build their own custom integrations.
The Salesforce ecosystem is comprised of thousands of products and integrations, which can be explored in their App Exchange. Some of the most popular ways to use the exchange for extensibility, according to Kissmetrics' Sherice Jacob, include Cirrus for Google products, Marketo, and DemandTools. Custom integrations are also possible.
Who Wins? Salesforce offers a larger ecosystem of products and extensibility. If you want lots of options for out-of-the-box, plug-and-play connections with tools that you're already using, you're probably going to find it with Salesforce instead of HubSpot.
7. Adoption
There are some benefits to a product that has a lot of users, but it's also definitely not the best measure of product quality. An active user community can help you find peer support, online content, and other similar resources.
As mentioned previously, Salesforce is used by nearly 20 percent of companies with installed CRM. That's, according to their annual report data, 150,000 companies with an average of 25 users per company. In total, Salesforce has approximately 3,750,000 users worldwide.
HubSpot CRM is less-widely used and it's also a lot newer since it was released in 2014. One estimate states it is used by 18,000 companies worldwide. Data was not available on the average number of users at each of these companies, but if you use Salesforce's metric of 25 users, you can project that HubSpot CRM could have up to 450,000 users worldwide.
Who Wins? Salesforce by the numbers. With nearly four million individuals using the product globally, it's got some serious adoption.
8. Support
Salesforce licensing costs include limited support. According to a data sheet, the included free support features for an Enterprise license without any paid support upgrades include:
Read-only access to knowledge basis content
How-to Guides
Forums
eSchool Courses
Certification Tracks
HubSpot offers many forms of support for CRM users, much of which is freely-available without signing up for the product. Support products available to free users include:
Training Courses
Multiple Certification Tracks
Blogs
eBooks, White Papers, and Interactive Downloads
User Documentation
24/7 Live Customer Support
Local, In-Person User Groups
Community Forums
The HubSpot Academy
Inbound.org
If you upgrade to paid HubSpot products, you gain additional access to 24/7 phone and email support.
Who Wins? HubSpot.
9. Features
Did we mention that Salesforce has a LOT of features? It really does.
For the purpose of brevity, we'll take a look at how these tools stack up on their offerings of 20 common features associated with CRM technologies, using data crowdsourced via 5,775 real user reviews on G2Crowd:
| | | |
| --- | --- | --- |
| | HubSpot | Salesforce |
| Opportunity & Pipeline Management | Yes | Yes |
| Territory Management | No | Yes |
| Task Management | Yes | No |
| Desktop Integration | Yes | No |
| Customer Contract Management | No | Yes |
| Product & Pricing Management | No | Yes |
| Quote & Order Management | No | Yes |
| Forecasting | Yes | Yes |
| Reporting & Dashboards | Yes | Yes |
| Social Collaboration | Yes | Yes |
| Mobile App | Yes | Yes |
| Output Document Generation | Yes | No |
| Sandbox/Test Development Environments | Yes | Yes |
| User Role & Access Management | Yes | Yes |
| Customization | Yes | Yes |
| Workflow Capacity Monitoring | Yes | Yes |
| Internationalization | No | Yes |
| Document & Content Management | Yes | No |
| Integration APIs | Yes | Yes |
| Data Import & Export | Yes | Yes |
Additionally, in a recent update, HubSpot released all-new Enterprise Grade CRM Improvements including:
Custom Objects
Asset Partitioning
Record Customization
ABM
Moreover, with access to powerful Sales Acceleration Tools improvements including artificial intelligence, updates to the mobile application, updates to HubSpot sales engagement tools, and much more, Sales Hub Enterprise connects sales leaders with the right data.
Can Hubspot Replace Salesforce?
HubSpot CRM is not the right product for everyone, but neither is Salesforce. For many massive enterprises, Salesforce or another highly-extensible CRM is a necessity.
You may want to keep Salesforce if:
You have many types of sales professionals and user roles
You are selling products from many different brands in different countries.
You have an advanced need for sophisticated lead analytics and reporting
You need advanced features, such as templating
You may want to consider HubSpot if:
Marketing and sales need a shared technology
You can't afford Salesforce
Marketing needs more insight into sales and lead activity
Your budget for sales technology is limited
You have a relatively simple sales cycle or small sales team
Fortunately, it really isn't a question of HubSpot vs. Salesforce, unless you want it to be.
HubSpot integrates with Salesforce and is made to be "stacked" on top of your existing CRM if needed. Customizations in HubSpot doesn't impact your existing CRM, but the two systems can share data. It's a great option, especially if you're considering replacing Salesforce with HubSpot since you can test-drive both systems and see how they stack up yourself.
Is HubSpot PLUS Salesforce the Best CRM Choice for Me?
There are a lot of reasons why HubSpot plus Salesforce may be the ideal approach to CRM for more than just a short-term test-drive. Here are a few:
Sales are used to using Salesforce
Marketing and sales need a shared tool for tracking common goals
Marketing needs sales intelligence for better full-funnel oversight
Your company has some sales cycles that are more complex than others
The Bottom Line: The Best CRM Depends on You
Salesforce and HubSpot are both great CRM options, but they have significantly different strengths. Understanding how the features and other factors fit into your needs and budget can guide you to the right choice of Salesforce vs. HubSpot CRM vs. both.
If you're thinking about a HubSpot marketing and CRM stack, did you know you can save 60 percent on your first-year subscription? To learn how, download our savings guide here.